I have made it to the quaint lil' town of Bentonville. We landed around noon, and made our way through the flat farmlands with rolled up haystacks galore. For being near the mountainous Ozarks, this area is quite flat and I am definitely on alert for tornadoes…especially since the airport has signs outside their bathrooms deisgnating that space as a tornado shelter. Yikes! …and ew…but better than ouch.
Me and one of my roomies for the week walked around the town upon arrival and looked for a little spot to eat at. We found a lil' spot called Oven & Tap. Super cute space with some stunning large scale portraits up by a local named Ray Allen Parker. I forgot to take pictures cause I woke up so dang early for my flight and my brain isn't firing on all cylinders, so this photo is from his website, but this one was hanging in the restaurant. 🙂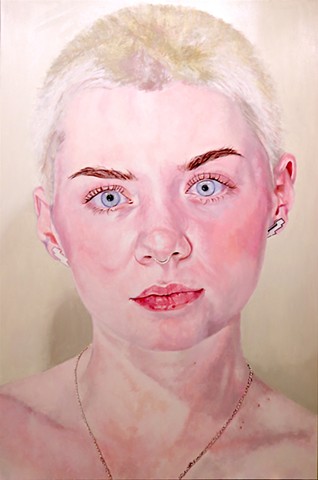 Now I am decompressing at our AirBnB until 6pm when we will have an informal little get together at 21C Museum and Hotel, which I am super stoked to check out. Most of the School for Art Leader participants were staying there, but I wanted something more economical and a little more cozy.